We offer Full body, Hollywood and Brazilian wax for all our clients.
Waxing is a temporary method of removing hair. Waxing can be preformed on most parts of the body. There are different kinds of waxes for different skin type and for clients who have particularly sensitive skin we use a pink creme wax which is not as harsh on the body especially on the face.
Creme green tea tree wax is an excellent wax to remove stubborn hairs its also anti inflammatory as tea tree is a healer.
We use cold cream to reduce the redness for some waxing and threading treatments as the some clients worry about the small red spots appearing after the treatments. The reason being is that the blood comes up to the surface when the hair has been removed. The spots are called blood spots.
After threading of waxing avoid perfumed products, soap,sunbathe, sunbeds, massage or aromatherapy. Some people worry about in-growing hair and this could be due to dry skin which can causes blockage to hair follicles. This is why you should moisture regularly.
Excessive dead skin can push the hair to grow under the skin this can be overcome by exfoliating regularly which removes dead skin and gives you clear healthy skin.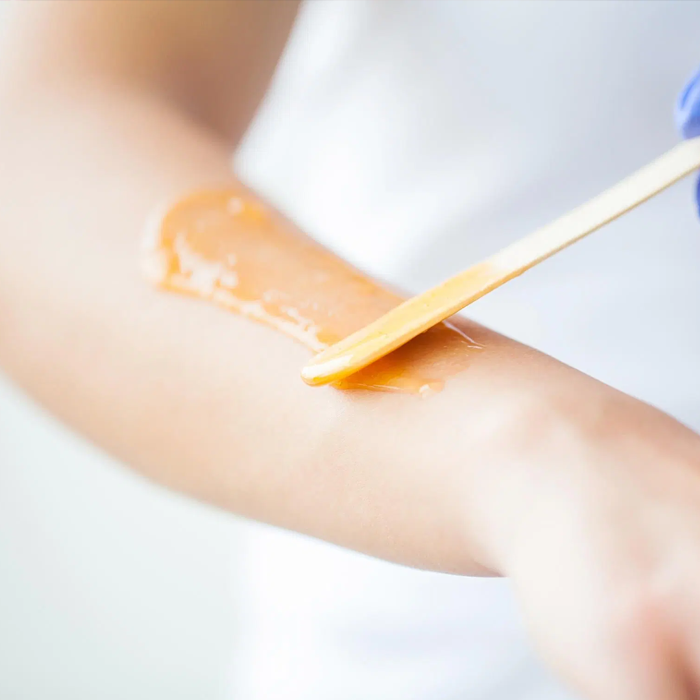 Full body waxing as well as general waxing has several benefits including;
Long lasting hair removal
Takes away dead skin
Eliminates stubble growth.
Lasts 3-6 weeks.
Hair becomes fine and weaker.
Slows down hair growth.
Brazillian or Hollywood … ?
Hollywood waxing is when all the hair from the pubic hair is removed from front all the way back to the bum.
Brazillian is when a landing strip is left of the pubic hair.
Why have a Brazillian or Hollywood?
Fed up of shaving, using cream, thick stubble pubic hair? Looking for soft smoother skin long lasting results? … Then bikini wax is the solution.
Waxing can be performed all over the body including the full body, face, eyebrows, chest, back, legs, arms, underarms and the pubic area. We are specialist is waxing all parts of the body including the pubic hair which is done in a very respectable manner so that neither you nor the technician is embarrassed.
The hair is removed from the shaft where it grows. Wax strips are able to remove several hairs at a time so it's less painful. Products used are either Tea Tree wax which is anti-inflammatory or sensitive wax. Gradually the hair will become finer.
To be on the safe side do go to a salon to get waxed as you get safer results i.e. if the hair is pulled out in the wrong direction it can cause spots that can lead to puss spots which are quite painful. This happens when the hair is broken at the root and has no way of getting out so it starts growing within the skin which causes irritation and spots.
If you have this problem then please go to the doctor for medical advice.
Once waxed you will never go back to razor or creams as the hair gets finer and finer as times goes on. A lot of people complain about in-growing hairs the best way to minimise these are by exfoliating your skin. This method removes dried skin from the body and gives way to those hairs that are growing under this dry skin. Always moisturise your body for soft glowing skin.